MaxGuard-




All Natural Deodorant Spray.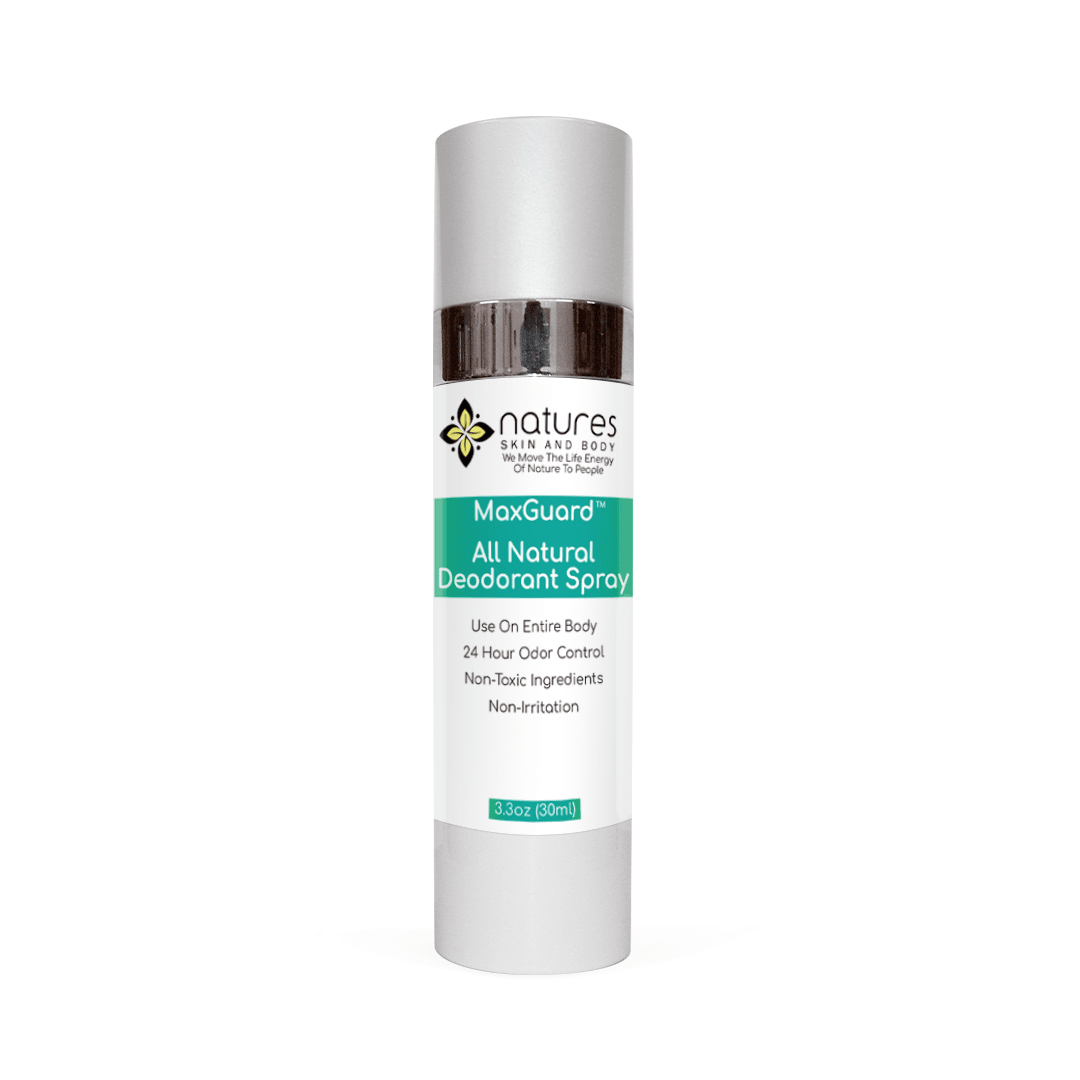 24 Hour Odor Control.


Use On Entire Body (Everywhere)

Non-Toxic Ingredients

Non-Irritation

For Men And Women.

Large Size 90 day Use.



Finally, a non-toxic all natural deodorant.




That even in extreme sweaty conditons, delivers stellar odor cont
In addition to keeping you smelling fresh, it's extremely healthy for your skin. The high-concentration of hand-scraped aloe vera gel soothes and calms your skin. Plus, the minerals nourish and protect.
More than 10 years of research and development went into the development of this amazing product.
If your looking for the best natural deodorant, this is your product, we guarantee it.
• 24 Hour Oder Control.
• No Dipping Your Fingers Into A Gummy Paste Or Cream.
• Can Be Used on Pits, Privates, Feet Or Anywhere.
• Fresh Natural Amazing Scent.
• Anti Irritation-Soothes And Calms Skin.
• Safe For Sensitive Skin.
• Suitable For Pregnant Women.
Natural scent. With captivating notes of fresh early moring spring and mint, you will love the freshness of this scent.
3.3oz | recyclable bottle | non-toxic ingredients | Safe for sensitive skin | Non-comedogenic | Suitable during pregnancy
Body Odor is caused by microbes feeding on the proteins and lipids from your sweat and converting them into odor molecules.
To Control body odor you have to reduce the microbes and break-down the odor molecules. Which this natural deodorant does, using a powerful ingredient we spent 10 years developing.
It is called OdorPlex ™, and we make it by connnecting a specific size silver molecule with plant extracted enzymes. This silver-enzyme complex along with the other all natural ingrediients will keep you smelling fresh all day
The magnesium-fulvic acid mineral complex not only increases odor control it also provides excellent anti-oxidant protection.
The essential oils add another layer of control odor and a fresh scent that is very pleasant.

The high levels of hand-scraped aloe vera leaf gel, soothe and calm your skin. So no irritation.
This natural deodorant works better than even the mainstream toxic ones-using only natural and healthy ingredients. It is tested and proven to be extremely effective.
Plus it's a spray, so you don't have to dip your hands in a gummy paste or cream. Application is just much easier.
Try this all-natural deodorant NOW, You will like it. We guarantee it.
SHAKE WELL BEFORE USE!
Spray anywhere and gently rub a few times,
so any whiteness disappears.
Can be used more than one time per day.
Organic Hand-Scraped Aloe Vera Gel, Magnesium-fulvic acid complex, Proprietary Siliver-Enzyme-Complex, Essential Oils (tea tree, lavender, lemon grass, peppermint), Bio-Ferment (preservative) Grapefruit Extract,
How Long does the deodorant last?
Around 90 to 120 days for most. But some have reported longer usage times.
Why is this deodorant higher priced than others?
First, it's a larger size, 3.3 oz vs most others which are 1 or 2oz. Second, the quality of the ingredients is much higher and the effectiveness is far greater than any other natural or chemical deodorant.
Does it discolor or stain clothing?
Under normal use NO. Part of our testing was to apply direct on clothing and monitor for stains or discolorations. There was none. When you spray there is some whiteness from the minerals, just rub a few times and it disappears into the skin. It does not stain or discolor clothing.
Does this deodorant cause rashes?
No, our testing proved it was non-irritating.
Does it darken the skin where applied?
No, that condition mainly happens from baking soda or toxic chemicals. MaxGuard doesn't contain any of those ingredients.
Do you add any fragrance?
No, we only use pure and organic essential oils.
Try These Other Amazing Products
With Your Deodorant.
Free Delivery
All Orders Over $60