CELLUMAX COFFEE SCRUB
EXFOLIATING SOAP BAR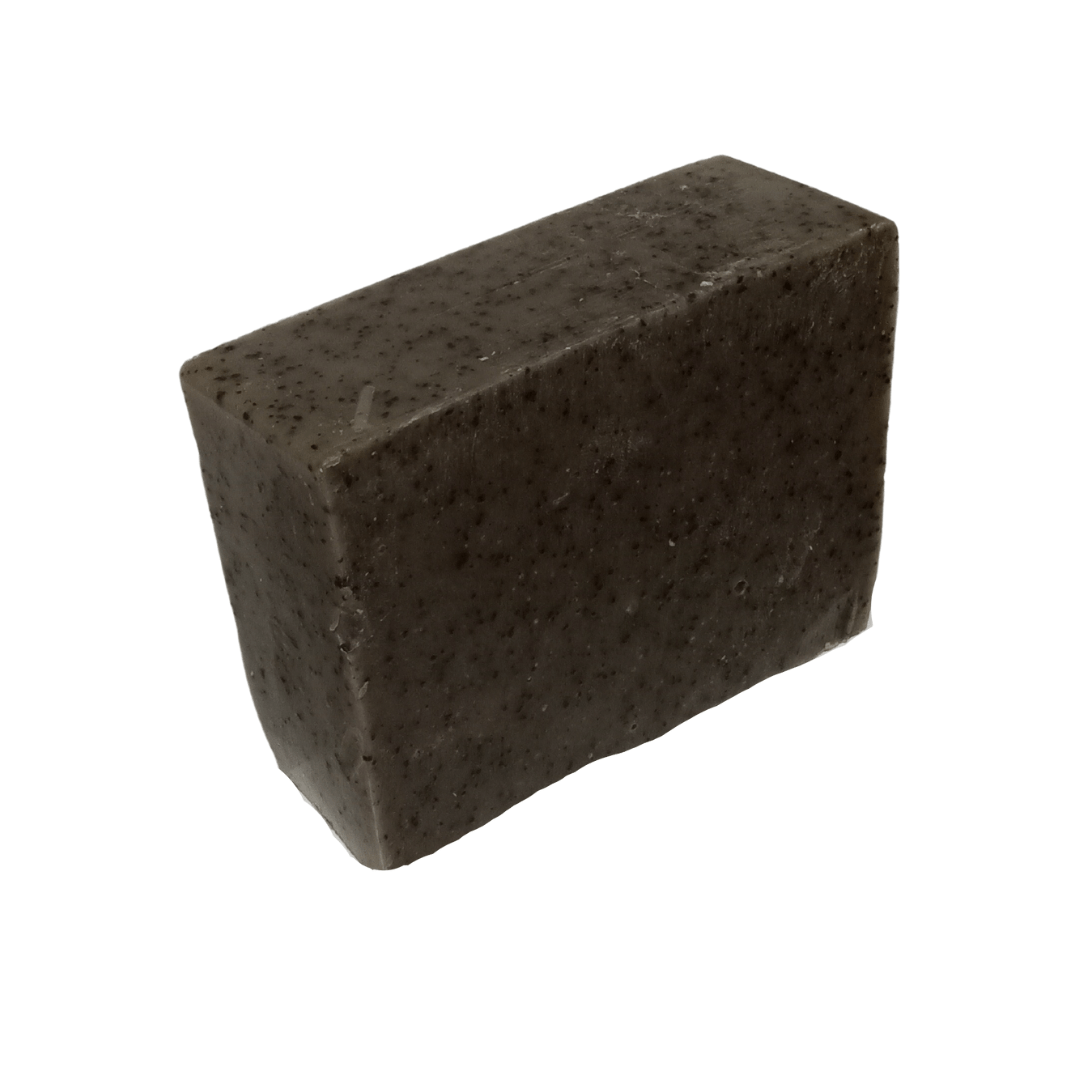 Maximum Body Exfoliation.
(Just Like A Regular Coffee Or
Sugar Scrub Without The Mess)
Use Just Like Would Any Soap Bar.
Lathers Rich For Deep Cleaning.
Use On Entire Body (except face)
Non-Toxic Ingredients.
For Men And Women.
This is the easiest, most effective and healthiest body exfoliation you can do.
Even if you're in a hurry, you can quickly exfoliate while you're in the shower.
In addition to keeping you regularly exfoliated, it's also very healthy for your skin.
The high concentration of caffeine-
Meticulously extracted over a 30 day curing process. Improves and helps control cellulite.

Also we include other herbs like Gotu Kola, Moringa, Bladderwrack and seaweed that nourish your skin with a wealth of healthy nutrients.
If you're looking for the best and easiest body exfoliator, this is your product, we guarantee it.
• Improves and helps control cellulite.
• Improves the appearance of Spots And hyper-pigmentation
• Makes Your Skin Smooth, Soft and Glowing.
• Nourishes With Healthy Nutrients.
• Deep Cleans While Also Exfoliating.
• Suitable For Pregnant Women.
Natural scent. Without any added fragrance.
5.3oz bar| recyclable box | non-toxic ingredients | Non-comedogenic | Suitable during pregnancy
Every time you bathe you can give yourself a whole body exfoliation.
Your skin feels smooth, soft and silky.
Regular exfoliation is important for the health and appearance of your skin.
But most just do their face. Your body needs it to.
With this bar you get the same benefits as a regular coffee scrub. including, an improved appearance of cellulite, stretchmarks and uneven skin tone.
*results may vary from person to person*
Wet skin, and using gentle pressure scrub your skin. Do not use on face or use strong pressure while applying. Can be used daily or as needed. Use anywhere except face and private areas.
Saponified organic olive, coconut castor oil, jojoba oils, moisturizing oils sweet almond and shea butter, Proprietary Herbal Extraction [Gotu Kola, Moringa, Bladderwrack seaweed}, Proprietary Blend of high-caffeine organic coffee in various small particle sizes.
What is an exfoliating soap bar?
An exfoliating soap bar is a skincare product that contains abrasive particles or natural exfoliants designed to help remove dead skin cells, leaving your skin smoother and refreshed.
How do exfoliating soap bars work?
Exfoliating soap bars work by physically scrubbing away dead skin cells and impurities from the surface of the skin. The abrasive particles in the soap help to improve skin texture.
What are the benefits of using exfoliating soap bars?
Exfoliating soap bars can help improve skin texture, unclog pores, reduce acne, and enhance overall skin radiance. They can also assist in the absorption of skincare products.
How often should I use an exfoliating soap bar?
The frequency of use depends on your skin type. For most people, using an exfoliating soap bar 2-3 times a week is sufficient. However, if you have sensitive skin, you may need to use it less frequently.
Can exfoliating soap bars be used on the face and body?
Yes, exfoliating soap bars can be used on both the face and body. Be cautious about the level of abrasiveness and choose a product that suits your specific needs.
Are exfoliating soap bars suitable for all skin types?
Exfoliating soap bars may not be suitable for people with very sensitive or highly reactive skin. It's important to choose a product that matches your skin type and concerns.
What should I look for when choosing an exfoliating soap bar?
Look for natural exfoliants like oatmeal, sea salt, or crushed nuts. Avoid harsh chemicals and microbeads, which can be harmful to the environment. Additionally, consider the soap's fragrance and any potential allergens.
Can I use an exfoliating soap bar if I have acne-prone skin?
Exfoliating soap bars can be beneficial for acne-prone skin by unclogging pores. However, it's important to choose a product that is non-comedogenic and gentle on the skin.
Should I follow up with moisturizer after using an exfoliating soap bar?
Yes, it's essential to moisturize your skin after using an exfoliating soap bar to prevent dryness and maintain skin hydration.
Are there any side effects of using exfoliating soap bars?
Overuse of exfoliating soap bars or using a product that's too abrasive can lead to skin irritation, redness, and dryness. Always follow the recommended usage guidelines.
Can I use an exfoliating soap bar if I have skin conditions like eczema or psoriasis?
It's best to consult a dermatologist before using exfoliating soap bars if you have such skin conditions, as they can exacerbate irritation.
Do exfoliating soap bars have an expiration date?
Like any skincare product, exfoliating soap bars
What our clients had to say?
Try These Other Amazing Products With Your Expoliating Soap Bar.